Hi everyone!
Since there are so many people giving me feedback and comments about the blog, i want to let you know, that i really appreciate it and it means a lot to me!
Last time i was talking about the essentials of Mount, the fundamental Postures and Pressures regarding that position, and today i want to continue with the Possibilities.
I'll start this by talking a little bit about Mount, why it is such a great and dominant position and why everyone should strive to achieve it.
In my opinion, Mount is the most dominant position there is in grappling. Just sitting on top, in total control, neutralizing all the escape attempts, stifling the other guy, making it feel like there is no hope and doing this while spending relatively little energy is the epitome of dominance. While Back Mount offers maybe even a higher success rate for submission, it wont have quite the same feeling of dominance.
Putting aside the control aspect, having the mentality to always strive for mount makes wonders with your jiu jitsu in the context of top control. What i mean by this, is that people develop great Side Mount control, tightness and stability.
If you put aside gazillion submission attempts from Side Mount, always think about entering Mount, then you realize that this can be done safely through great control (watch the video for further information) and this puts things into perspective. Developing great control, the posture and pressure, is very important.
Going for submissions from Side Mount usually increases the chances of losing position, giving up control and focusing less on control, that is something people should not do at first.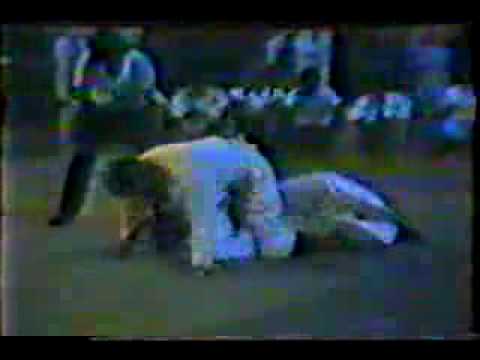 Rickson doing what he does
Mount is the Holy Grail and every step towards that Holy Grail develops your game in a good way.  I try to instill this into students from day 1. Simple positional control. Good cross-face, good weight distribution, good posture and pressure, correct limb placements to maintain control – all this drilled in isolation mode.
If people have things in perspective (goal = Mount) they suddenly start to pay attention to things that are important, they want to keep top position, they want to pass guard, they want tight control in Side Mount and then move to Mount, finally dominating from there.
Its not that i don't want people to look for submissions from other top positions, i do, but my take on this is that when you are beginner then you really should focus on positional control and achieving Mount. If you already have a good control, then you should still try to achieve Mount, BUT should the bottom guy "give you" or should the "opportunity present itself" to capitalize on different attacks, then ok do it (watch the video for more on this).
So that's why one might want to achieve mount. Of course, this is just my opinion and who's to say its the best? Bjj can and will be played in various ways by different people, that is one of the many great aspects of this sport.
Possibilities
As you remember, Possibilities are what generally people mean by techniques. 10 guard passes, 10 arm bars, 10 sweeps are all possibilities and while posture and pressure are far more important, one should know a few Possibilities. The thing is, that since there are huge amounts of Possibilities then what to learn ? all ?
At this point i want to talk about an option to divide all Possibilities into 2 – High and Low percentage Possibilities. Again, while not something new or revolutionary many people do not have this look on techniques.  While i cant exactly trace back who to credit for this classification i know this has been at least in SBG for a while. If you hear about it for the first time, think about it for a moment and it will make a lot of sense.
1. High percentage Possibilities are techniques which have a really high success rate. For instance doing a triangle or arm bar from closed guard is considered a high percentage technique.
When you look at what submissions/sweeps/escapes most commonly happen from a certain position then those are the high percentage Possibilities. And when you look at it that way, you realize that High%Possibilities are BASIC techniques. Basics have the highest success rate.
2. Low percentage Possibilities, in contrast, are the techniques that you don't really see happen much. And now you realize, that techniques considered "advanced" are usually Low%.
I feel the need to clarify something. When i say "most commonly happen or do not happen" you could ask "happen where?". When a white belt rolls with a black belt ? When white belts roll with each other ?
A good indicator is competition. Techniques that frequently happen from certain positions in a high level competitive environment i would consider High%. And for instance, when you look at Mundials, black belts, you dont see actually too much various techniques being pulled off.
Most of the time its a choke from the back, X choke from mount, arm bar/triangle and a odd leg lock here and there.  Of course this is not the entire repertoire, but there is extremely little "goofy" stuff like gogoplatas, rubberguards, armless triangles and so on.
So basically one should spend time on learning High% Possibilities, basic techniques. The formula for success is Posture and Pressure + High % techniques. Spend lots of mat time isolating those and you get good at Bjj.
Possibilities from Mount, nogi
To illustrate this topic ill go over briefly what i think are High% nogi mount Possibilities. For that, and also a little bit more about wrestling integration to Bjj, please check out the video.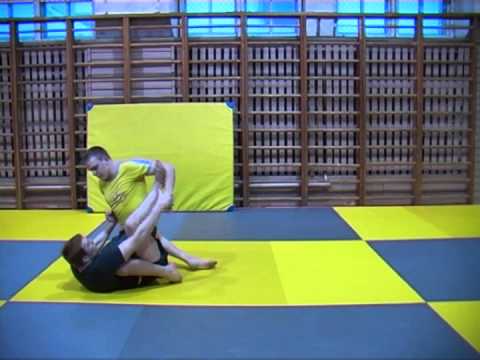 Until next time!
Martin
Jan
25
Grappling
4 Comments
Hello once again
Last week i talked about what i think is important in Bjj and that most of the training time should be spent on isolation drills to develop Posture and Pressure for specific positions.
Today i want to show a little example with mount top control. Briefly explain 2 important postures, "Normal" and S-mount, the importance of switching between the two and also a little extra with the "Hips In!".
Historically, Mount was the very first position that i truly felt competent in and that i can credit to Roger and Rickson Gracie. I always knew that Rickson was good at Mount, but somehow that alone wasn't enough to make me really figure it out and make a huge part of my game. That was until Roger finally emerged from the Depths of Hell and has been putting on Mount clinics ever since. Because of a such a dominant display of basic Bjj (not only Mount)  and submitting everyone from Mount, i just had to get mine as good as his .
There are 2 key postures.
(For visual aid please watch the video i made to illustrate this topic)
1. First is the "Normal Mount" where you just want to keep your legs pinching together tightly against the side of the bottom guy, point your own toes inwards (heels out) and trying to connect your toes on top of each other. Keep your weight low and use arms to find balance.
From "Data analysis" and experiments i came to a very important conclusion regarding this posture. It is that you ALWAYS have to have a certain pressure to strive to keep your own feet underneath the bottom guys back/hips/legs. Really trying to connect them and keep them "hidden" there.
This serves 2 purposes :
* It makes the Upa escape less effective – Bottom guy wants to make space with bridge but you can use your legs underneath him to keep yourself close and not fall over
* It neutralizes the elbow knee escape – Bottom guy wants to use hes arms to create a frame on your hip/leg and then push-shrimp away. If you really hide your own leg, that he bottom guy is trying to use for escape, deep underneath he's legs, you will make the escape really hard.
And that is IMPORTANT
Cool highlight of Roger Gracie
If you want a mount that is not escapable then you need to do lots of isolation drilling and work against common things that happen. And those things are the Upa and Elbow-Knee escape. Hiding your own feet underneath will help you a lot against both of those escapes.
The second key posture is the S-Mount posture. While there are many interpretations for S-Mount Posture, i am referring to the one Rickson uses where you bring your heel against the hip of the bottom guy.
Theoretically, when you always keep your feet hidden underneath the bottom guy, you will never need to switch to S-Mount. The need for this Posture comes when the bottom is guy smart and has a good elbow knee escape. Even before you begin to shrimp, when doing the Elbow-Knee escape, you should have the leg connected with the ground. The leg on that side where you use the arm frame. This means that the top guys legs are not connected nor underneath the bottom guys legs anymore. In this situation the leg is "exposed" for the escape and if you stay there you will be put back into guard.
And here comes the S-Mount, as soon as you feel that the leg is exposed make a switch to S-Mount.
Key points to S-Mount posture : Start turning your hips towards the exposed leg, this allows you to slide your heel tightly against the hip and bring the knee up (this is the exposed leg were talking about) and keep toes pointing outward.  Slide the other legs knee pretty high up against the back of the bottom guy and use arms to fight frames and keep balance. Also start applying the "Hips In" pressure that i will talk about soon enough.

Rickson using great mount control and switching to S-Mount before the choke
So basically, in a nutshell, that is quite simply put all you need for a great mount. Now its time to drill and develop pressure and timing.
The "Hips In" pressure
As a little extra i will talk about this incredible pressure. Now this is PURE LEVERAGE. Throughout my years of training grappling I've always followed the simple rule :
When you are trying to do something, whatever it is, be it cranking a submission, holding some control or trying to escape, when it feels like you are squeezing for your dear life while doing so … you are doing something wrong. Then its time to sit back and figure out how to gain more leverage doing the same thing thus expending less energy and make it feel a lot easier.
And most of the time you only have to modify something really simple and easy and the results will be amazing.
This Pressure allows you to use your WHOLE BODY, your entire body to accomplish your goals. You can use everything against simple limbs, they're power, of your opponent and you'll come out on top. This will give you tremendous force/power while expending so little energy. As i said, pure leverage.
Now im not gonna try to write it in words, just watch the video to get the idea. Develop this and good things happen!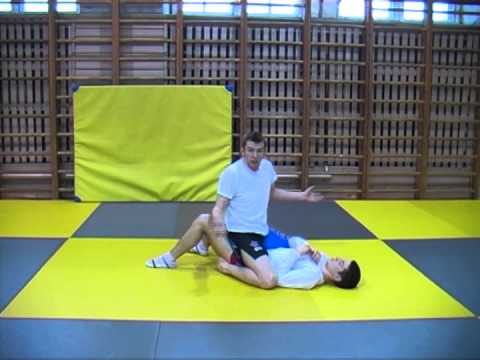 Until next time!
Martin
Jan
14
Grappling
13 Comments
Hi everyone and a happy new year!
With this post i want to turn your attention to the most fundamental parts of jiu jitsu, the posture and pressure of positions. I want to talk why they are the most important and why everyone should spend a lot of time working on them and less time on variety of possibilities or "techniques" as most like to call them.
First of all, for those who are not yet familiar with it, i will use the 3P model for this. The 3P model is something a fellow SBG member Cane Prevost came up with and after i heard it the first time i immediately felt it to be true and very easy to understand. If you are not yet visiting Cane's blog i suggest you do that. I want to further popularize this model and this approach to breaking down jiu jitsu.
3P model consist of Posture, Pressure and Possibilities. Basically, when you look at a certain position in bjj you can split it up into those 3 components.
Posture – A position of the body or of body parts. In bjj, postures can be good or bad depending on the following :
1. A bad posture will keep you constantly under the threat of being swept or submitted – vulnerable,  a bad posture will make you constantly work and expend a lot of energy to maintain it and with a bad posture you will have little leverage over your opponent.
2.  In contrast, a good posture will keep you relatively safe, its pretty hard to attack someone in a good posture. You have a lot of leverage over the other guy and thus you have to spend relatively little energy to maintain it.
Usually, there are very few good postures when we look at a specific position.
Pressure – Is the movement within a posture. Posture in itself is nothing. Everyone can take a good posture, but when the other guy starts to resist, starts to break down your posture you need to be able to maintain it. Pressure describes the ability to keep a good posture under pressure.
Possibilities – Are the "techniques". For example 10 variations of some guard passes would be 10 possibilities.
Whats important to understand now is that Posture and Pressure are UNIVERSAL. Say i like to pass guard using double under pass, you like to just throw the legs to the side, someone likes to work hes way from open guard to half guard and then pass, fourth guy likes to go for leg locks. In all of those cases, despite everyone ending the guard passing situation with different possibility, they should all use the same/similar posture and pressure. It does not matter if you know 100 guard passes, what use are they if you cannot apply them because you are always getting swept or submitted? And you are getting swept and submitted when you don't have good posture and pressure from that position.
Since there are usually only very few good postures for a specific position and because posture and pressure are universal, then this is what most of the training time should be spent on. Doing different kinds of positional isolation drills will make you good at bjj. Possibilities are "endless" and people might like different ones. You got to have a few, but the posture and pressure are far more important. If your guard is always getting passed then its time to stop working on 10 arm-bar variations and focus on the good posture needed for that specific guard and fundamental movements required to be able to develop pressure. Then, when the guard becomes impassable you spend a bit more time on your possibilities.
To illustrate this topic i made a little video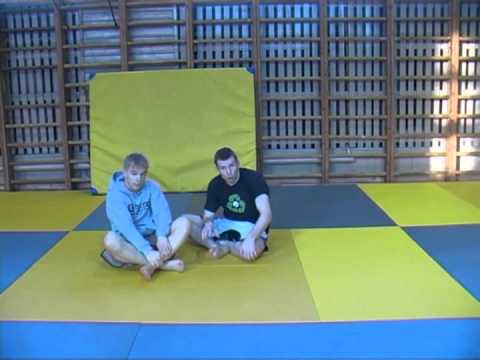 Jan
6
Grappling
11 Comments