To sum up the Passing I wanted to give you a little "Rule of thumb" to follow when initiating Passes and a couple of pointers.
So the Rule is : Hips, Legs, Positioning

Hips
This means that you want to pull/press your own hips against the hips of the Guard player while playing in that Posture. Squatting down, leaning in while pulling with the grips. You want to smash your own hips in. This will limit the hip movement for the bottom guy and that's something you want to achieve.
Legs
Smash the leg(s) to the side. Thing to know here is that you want to use your chest to do that. Chest gives you an "extra arm", you can press heavily with it and at the same still pull in with both arms. This is something people miss quite often in they're passing game.
Also a little pointer to help out with the leg smashing is to tilt the hip. When you want to push one leg down on the side with your chest then first push the other leg down on that side with your arm. This will limit the range of motion for the top leg and help you with the leg smash. (Watch the video for better description)
Positioning
Finally, when the hips are close and the legs are on the side, Position yourself in a way that you can develop heavy pressure while having good balance. Simply put it means that you should try to end up in Legweave or Leg Drag control position (those were covered in last post) because they do exactly that – give you the ability to develop pressure and maintain balance.
Here's a little video to go a long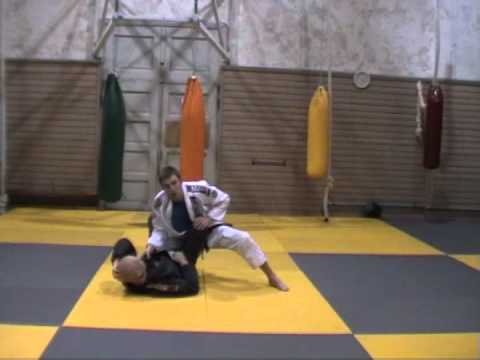 So that's that. Next time I'll talk about Guillotine …
And … Happy new year! :)
Dec
31
Grappling
2 Comments
I'm glad to say that while I'm not 100% recovered yet, I am able to roll now and have been doing so for past couple of weeks already. Still not doing any wrestling though, waiting until new year. Also, It's about time to resume some blogging and kick it off with Guard passing! BUT, first I want to announce a couple of news and updates regarding the Blog.
1st It has been now approximately 1 year since I first started this blog, so it's a little anniversary! :)
2nd I've changed the name of the Blog into Wrestjitsu 101. I did so because I find it very appropriate considering my take on Bjj (which is heavily mixed with wrestling) and since I'm very fond, proud even, of my little word mixing I think it fits this Blog better than the previous one.
3rd I have received many comments on my Blog regarding the material I present, that it is very good, useful and I'm very happy to hear that. In regards to that, people have also wondered why I present all this absolutley free of any cost!? Well, I want to spread my ideas and approaches regarding  Bjj, I want this info to be accessible to everyone and putting limits to that, such as money, would hinder that. I will always keep presenting free info here on the Blog and you are most welcome to view it. That said, I do not exclude that at some point I would try to make a marketable video and/or book series available for purchase.
In any case, If you truly like my videos and articles and want to help me out then You have that option now, via Donation. I have set up a PayPal account to receive donations in order to help me raise money for Blog's hardware upgrade – a new HD camera and a computer to work with. You can access Donations page by clicking HERE or the link on top of the page "Support Martin, Donate!". My gratitude goes out to people who take that step!
Allrighty, now that the Blog news are out of the way I present to you the follow up to the General Open Guard Passing – Posture article/video, its time to cover the main Passes for that Posture and that style of Passing. Which is, of course, SMASHING!
First, if you are not up to date on the Posture I suggest you familiarize yourself with it in my Previous Post
In general, when I talk about Passing Open Guard I still emphasize the idea of using heavy smashing style Passing – that means using a lot of gravity and making use of your bodyweight in the most heavy manner possible. In a word (or few) you want to make the bottom players life horrible. So the overall concept has not really changed since the original Estonian Guard passes from HELL video
The aim of this video is to cover 2 main Passes for smashing style – The Leg Drag and Legweave, plus the Knee Cross pass in more depth than previously. The first 2 are widely used nowdays and those Passes occur very often from that Leg In Front posture I talked about. Knee Cross doesnt acctually "Smash" that much, but it fits right into the Posture and is still often used because it opens up, quite often, a scramble that leads into back attack.
After I shot the video, It came out around 28 minutes, I realized that to cover those 3 Passes in total depth would take a lot of time as there are more details to talk about and drills to help development. So I might sooner or later talk about Passes again – also there are a few more Passes I want to eventually cover (Kickback, Under the Leg and Guillotine).
Allrighty, enough, let's get to it!
1st The Infamous Leg Drag Pass
Step 1 – Setup/Entry into Leg Drag control position
In my opinion, the easiest and most simple situation where one can enter into a Leg Drag pass from that Posture  is when the bottom player is trying to, and succeeds, in freeing he's either leg and tries to push the Passer away to create space. He can push from where ever he decides to plant the foot, most likely it is on the hip.
In the Posture video I talk about how you do not want to allow him to get he's legs free and I show how to control the legs, being preventative, and also how to regain control when they do get either leg free.
At any point, when he's legs are free, you can also try to start the Leg Drag. Once the bottom player is pushing you away try to force your weight against that motion so that he needs to push hard – Leg Press you away. As you are putting your bodyweight weight against the Leg Press you need to also put a grip on the Leg. Now grips can vary a lot, it can happen with either arm or both of them – does not really matter as long as you have one. To finally initiate the Drag, release the bodyweight pressure by turning your hips/body little bit inwards (as in the direction of he's legs) while pulling he's leg at the same time in the same direction. This way you use he's Leg Press force against him and take advantage of that momentum. And as I said, you can do this to either of he's legs that he gets free.
Simply:
A. Bottom player gets a leg free from that Posture and starts to create space by pushing you away
B. Put a grip on that leg and push your bodyweight against that leg push to get a good reaction
C. Release the pressure by turning your hips/body and dragging the leg across at the same time
You now have initiated a Leg Drag pass
*There are more situations from where you can enter into a Leg Drag Pass, but as I said, I think this is the most simple situation you can imagine for it – a leg in front of you
Step 2 – Entering the Leg Drag Control Position
Now that you have initiated the Drag pass you have to move into a very good control position and I'll talk about what it looks like.
After the entry, its most important to make sure the bottom player CANNOT TURN INTO YOU. If you can manage to do that then finishing the Pass is very easy. You have to position your body and develop grips with that goal in mind. Cant turn into you! Steps to take:
A. Keep pulling the leg backwards with one arm
B. With the other arm get a grip near the hip (pants or belt) and keep pulling it up and inwards
C. Slide your knee in between he's legs – do this at a little angle facing away from him to have great base and balance
D. Plant your upper body on him in a way that the Leg you were dragging ends up underneath your armpit
If you do anything wrong here 2 things can happen:
1. There's enough space and too little pressure allowing the turn back into you – not enough smashing power
2. Wrong placement of bodyweight leaves you with bad base and balance thus allowing to tilt you a little bit. Doing that you end up having to release grips to maintain top position and thus failing the Pass.
Isolation drilling within specific frames and bottom guy not going hard while trying to off balance you will eventually fix it and you find the perfect spot.
Step 3 – KEEP CONTROL, DON'T RUSH THE PASS!
After you enter the Control Position … just KEEP IT! Bottom guy might, and usually does, go Berzerk mode to turn back into you, push you away with arm frames … and you need to be able to withstand all of that.  Keep the control, keep balance, stay very tight on him, develop upper body grips and fight off the arm frames. Trying to finish the pass too soon and releasing pressure, grips, control will most likely put you back right into the guard. Bear in mind, that this Berzerk mode takes a lot of energy from him and not that much out of you. You have fantastic position in which you use gravity a lot and lay on him while he's entire body is working very hard to recover guard. Eventually he will tire and you can take the pass. Dont rush, be patient and allow him to burn energy if he chooses to do so.
The thing to do while that control fight happens, is that you can and must try to achieve better GRIPS on the upper body – Collar grips and/or seatbelt control. This will give you better control over him and allows immediate attack from the exposed back.
Some serious Leg Drag Pass Control Position going on in the following video – not surprisingly from Rafa Mendes!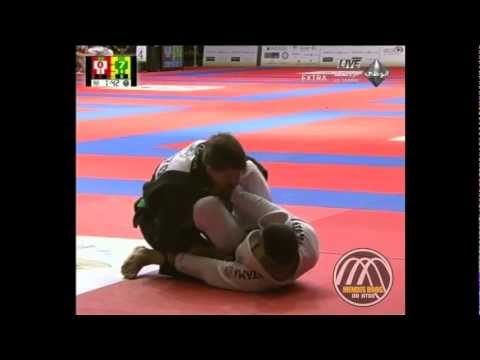 Step 4 – Profit $$$ Enter side control or attack the exposed back
Eventually, after  you maintain the Control Position long enough, he will either tire and you can move or SLIDE into the side control OR he will turn on he's knees > This is what happens in competition Jiu Jitsu a lot, in order to avoid Guard pass people turtle up which in return exposes the back. And to you that is a good option as well, you just need to have your turtle control and back take's polished and ready!
In a nutshell that's a Leg Drag for you.
2nd The Legweave Pass / Control position
Step 1 – Entry
Again, when you have that leg in front Posture you can start to push he's legs down on the mat on either side. Pushing them one way opens up Legweave and on the other side Knee Cross. Legweave happens when you push them down on the same side you have your leg in front. So when you are playing that Posture and your right leg is in between he's legs and pushing he's knees down on your right side will open up this possibility. Things to know :
Body positioning is of  UTMOST importance! First, as you start to push the knees down do it mostly with your upper body. That means place your chest against the top leg and try to achieve similar leg in armpit situation as in Leg Drag. Now as you are pushing tilt or turn your own body into a similar angle, facing away from that direction you are pushing the legs. The thing is, if you just push the knees down and plant your weight right on it without angling it's very easy to bump you a little bit and that results in losing the control and your back in guard. So its very important to not just push the knees down, but to do so in a manner that you have balance when he tries to bump you.
Although not using the Leg In Front Posture, Roger makes a lot of use of the Legweave pass, such as in this match against Saulo. Saulo, as do many others in competition, exposes the back in order to avoid pass.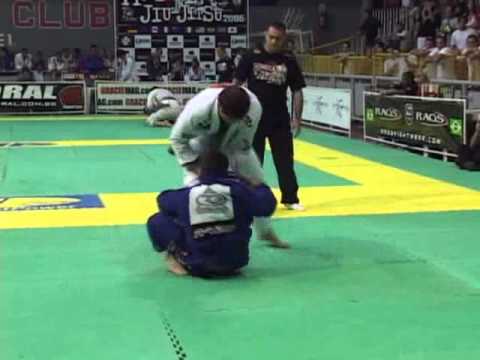 With the man himself! :)
Step 2 – Keep Control!
Just as in Leg Drag, maintain the position that occurred. Push your hips in to keep the legs smashed to the side, you can assist with your arm while at the same time getting a good grip behind he's back. There are once again variety of grips to take for that "Back arm" – you can take it near the hips (pants/belt/ or just around the waist) and keep pulling rotationally in, you can grab the fabric on the midsection of the back and just pull in, or climb high enough to achieve a collar grip near the back of the head. All good options. The goal is totally stabilize yourself, not allowing the turn back into you while developing heavy pressure and fighting for good grips.
Step 3 – Profit $$$ The same as in Leg Drag > Slide into side control or attack the exposed back
You'll see Terere successfully executing a similar Pass in the following video, though he does not start it from Leg In Front Posture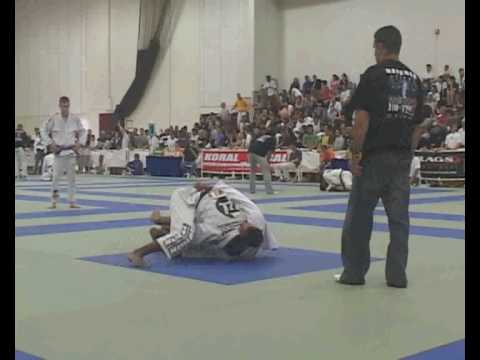 Before I talk about the Knee Cross, I want to mention one thing. These 2 Control Positions are very good for the passer. As I've already said, you use a lot of bodyweight and gravity in those situation and make the guard player work hard. Getting good in those 2 controls will make you a force to recon with! I would like to emphasize that the goal should not be to rush the pass, but rather just frustrate with a very good, tight and powerful Control Position – don't worry, the Pass or the back attack will present itself. If you happen to lose the control position don't worry, just keep searching for opportunities to enter those Control Positions its easier for you than bottom player.
Once again, a lot of isolation drilling with specific rules/frames set on the drill will allow you to recognize those Control Positions and get good at keeping them. Just as with Leg Drag,  The Legweave control can happen from variety of situations, not just the one I talked about.
3rd The final Pass that I will talk about is the Knee Cross
Knee Cross is a bit of a different as with this Pass you will most likely end up in a Scramble (depends on the level of the Guard player) and wont have such a dominant Control Position to occur as with the 2 previous passes.
Step 1 – Entry
Now, to enter the Knee Cross you pull/push the Guard players knees down on the other side. Going back to the example I previously talked about, your right leg being in front, you push the knees down to your left. Things to pay attention to:
A. As you start to push/pull the knees down the side, make sure you have balance with your outside leg. If you keep it too close then your legs will end up too close together making it restively easy to manipulate your balance. Keep the outside leg wide out on the side to have balance.
B. Turn your right knee towards the ground and sit down on Guard players bottom leg.
C. Keep sitting down and have your body near the hip. If you drive too much forward you get punished by exposing your back – you can defend that situation with Overhook Power but better to not let it happen in the first place.
D. Keeping yourself low will make it hard to establish underhook on you OR, once established, if you put your weight down on it, it is very hard to make any use of that underhook.
Step 2 – Pass it!
Once you've established the previous situation its time to free the leg and either Pass or let the scrambling begin.
A. To free the leg SIDE SPRAWL it towards your other leg. Trying to slide it upwards will make your weight go too much forward which in return exposes your back once again. Turn your knee towards the other foot and slide it. It will come free OR in the case of extreme situations you can help with your other leg.
B. Once the leg is free, and you have done the Side Sprawl, you must turn your body back, stomach towards the ground and try to drive your body into he's UPPER SHOULDER! If you can mange to drive he's upper shoulder back on the ground you achieve side control. You can help this by pulling he's lower arm up. The Scramble happens when the bottom guy has turned himself on the side very well (which is something he wants to do) and you can not drive he's shoulder on mat > it slips under you and the Guard player turns on he's knees – turtles.
Step 3 – Scramble! Most likely to end with a back control
If Scramble happens be ready to attack the turtle once again and achieve back control. The thing is, if you have practised the movement of switching sides to take the back, you have a better start in the scramble and most likely you attack the back. If you miss it then a regular turtle position occurs in which, in my opinion, you once again have advantage.
So, it came out a pretty long post and only covered the 3 Passes. There are more, there is the Kickback, Underneath the Leg Pass and the Guillotine Pass … All of which I will most likely write about sooner or later. Half Guard and other types of Guards are also things you need to know how to Pass. This was simply a General Open Guard passing section and I definitely did not cover everything.
As always, here is a video to go along with the post!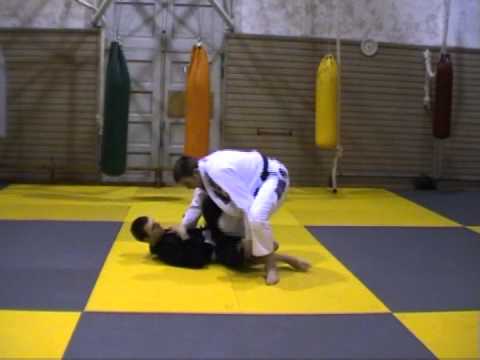 Merry Christmas! :)
Martin
Dec
23
Grappling
12 Comments