This time I'll give you my thoughts about shooting for takedowns or just wrestling the guy down while starting it from the Open Guard. This particular topic has been a big part of my own game for some time now and a lot people have asked me to cover this in more depth, so there ya go!
There are two "ground rules" to know overall, when talking about this topic.
1. Wanting to, and having the appropriate mindset to wrestle the top guy down (sweep) is NOT a substitute for Guard play in general. I say this because I have seen people want to abandon bottom game totally in favour of simply just wrestling. The fallacy here is that you just cant go all the time shooting in, especially if the top player is fairly good at wrestling himself and has a good idea about passing the guard with heavy pressure. You can, however, make it a big part of your bottom attacking game.
2. Secondly, I strongly suggest people start wrestling. You WILL find it very difficult to finish those "shots" if you have no understanding what wrestling is about. Wrestling gives you incredible base to develop power from so you can make your own bodyweight count and drive/ram into the other guy – a total battering ram to break castle doors :) Also you will have great balance with it and it will become very hard to manipulate you. Plus without wrestling not only the above, but you will also lack the technical tools to finish the takedowns.
I will elaborate more on this in the video which you will find, as usual, at the end of the post. If you accept these 2 things and work accordingly, you can achieve great results … just don't live in the dream land!
Now to go onward with the topic at hand, I will try to put everything in a few fairly simple concepts.
To shoot for a takedown requires you to:
A. Trap a leg (most likely a hand grip)
B. Drive into the other guy and ram him down – to be able to do that you need to get your legs into a powerful base position, which is basic wrestling, and body posture in general.
While it might seem quite easy and simple on paper, without a fair amount of wrestling knowledge, skill, practice and experience you will find it quite hard to turn into reality.
When going more into specifics you will find it that very often, when the top players is not pressing/passing with heavy pressure and does not want to put you on your back, you can find possibilities to shoot in.
I'm my previous Guard Passing saga I explain that as a Passer, you HAVE TO put the bottom guy on the back in order to reduce the threat of attacks coming from bottom. However you will most likely notice, in your gym, other gyms and in competitions, that people often apply the "Sneaking passing". That gives the bottom player a very good opportunity to get a takedown going.
A whole different monster is to get wrestling going when you are under pressure of passing. This where you have to compromise your guard play with the wrestling idea. You have to apply your guard movements to defend and time the wrestling. A way to approach this is to try to "Push-Pull". When under pressure, top guy is pressing in, use the momentum and try to either attack him with something (armdrags, guillotines) to get a reaction of pulling away out of him OR simply apply frame+shrimp to create distance. When there is a pressure less moment, you can try to seize the opportunity.
There are, of course, options to wrestle up from many specific situations when playing certain types of guard (X-guard, De la Riva, Slash guard and so on). In this post I will not go into many technique variations, I simply want to give you better understanding of the whole concept with a few examples.
Please watch the video for visual descriptions and I'll also give my thoughts on avoiding the Guillotine when applying all of this.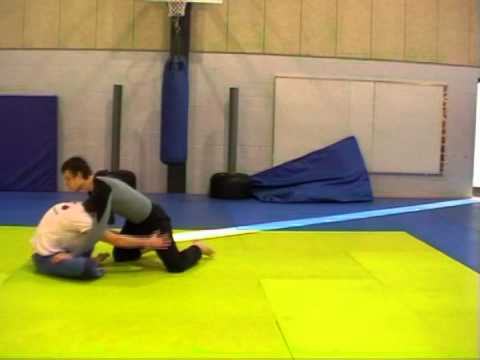 Regards,
Martin
Feb
4
Grappling
3 Comments